Hello everyone,
After a few months of being silent here I am again.  Only excuse is now that I am on the road for 6 + months Jan-July each day and in fact each week and month blend into the next.  That is not to say that it is not a wonderful time for me.  It is!  I do 8 shows a week for these 6 months.  Driving to a new town or city each Sunday and then open Monday evening in the first of the 8.  It makes me understand the Movie Groundhog Day!!  I don't see much of the town I am in as I go to the theater and then back to the apartment or house I am staying in for the week.  That's all the sight seeing I do.  I live very much like a monk!  The joyous part is the drive through the countryside to the next venue and then the next.  England is so beautiful as I witness the seemingly dead trees push their lemon yellow- green shoots out to greet the spring sunshine.  Now that it is May the countryside is all a vibrant green and the fields are teeming with sheep everywhere with their new lamb additions.  


I feel so fortunate to be doing this play, which is an enjoyable, fun, murder/mystery/comedy.  The people here, and everywhere, are so in need of a bit of respite from 2 years of covid and now the situation in the Ukraine.  We in the cast can actually feel their release of their burdens for the 2 hours they are with us.  And just being able to come out and be with others and feel the warmth of human connections is worth everything right now.

Our band of actors has become a real family.  We enjoy the happiness each person enjoys and feel and share the times when things in someone's life may experience a hic-cup.  When July 2 comes around it will be a mixture of relief of the end of a long job well done and the sadness of knowing that some friends we may not cross paths with again.  But that is the life of almost all actors, especially in the theatre.
Hopefully I will write one more update on the journey of my life before we wrap the show.  If not please know how I appreciate all of you that care to look in here at times.  Stay healthy and happy and be assured that the world will be a better place for your having been in it.


Patrick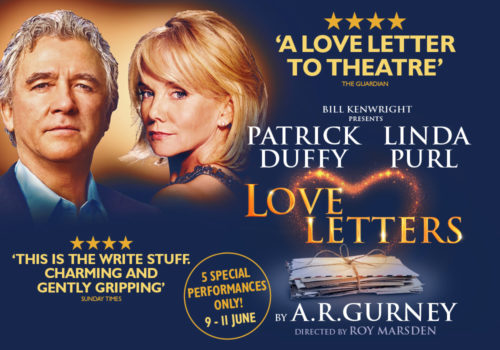 DALLAS' PATRICK DUFFY AND 
HAPPY DAYS' LINDA PURL
STAR IN LOVE LETTERS
When Andrew Makepeace Ladd III (Patrick Duffy) accepts an invitation to Melissa Gardner's birthday party, Melissa (Linda Purl) writes a thank you note, and a romantic friendship and correspondence destined to last for almost half a century is born.
A.R. Gurney's Love Letters debuted in 1988 and was a finalist for the Pulitzer Prize for Drama.
Love Letters – Theatre Royal, Windsor June 6 – 7, 2022